Happy Holidays from all of us here at the Christopher Dodge House!
We love spending time just before the holidays visiting with family, friends and keeping up old traditions. We also love to shop locally for gifts and grab a bite to eat too, so let us share our top 3 picks for local shopping areas here in Providence.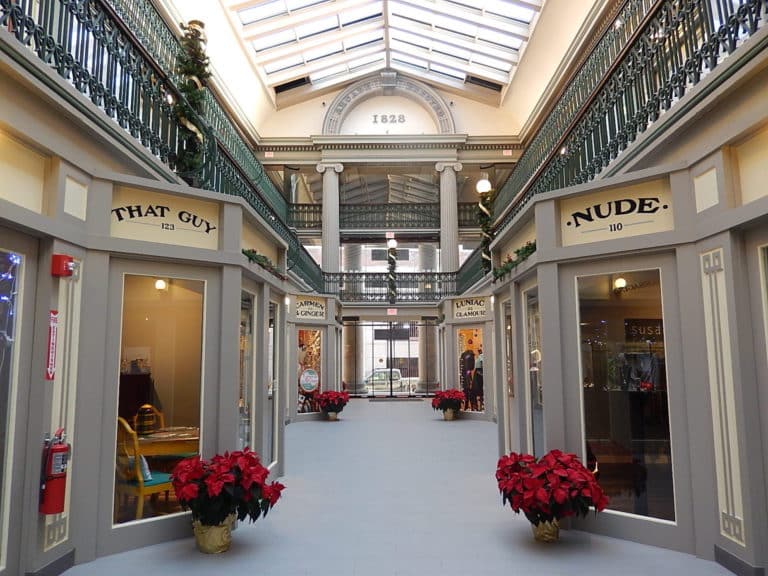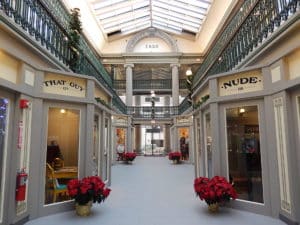 Downcity is the historic heart of Providence. Bordered by Fountain St, Empire St, Weybosset St. and Memorial Blvd, Downcity is occupied by a vast array of bars, restaurants, and shops. You can find unique handmade gifts at Craftland. Head on over to Queen of Hearts and Modern Love or Clover if you are looking for apparel and Symposium Books for the best book selection available in Providence. Be sure to stop at The Arcade Providence, the nation's oldest indoor shopping mall built in 1828. Once you've worked up an appetite there are plenty of restaurants and cafes to choose from. Trinity Brew House offers their own award-winning craft beer and great food. If you are looking for farm-to-table with an intimate dining experience then head to Gracie's. Other great farm-to-table restaurants in Downcity also include Rogue Island, Birch and Circe Restaurant and Bar. For a complete list of shops and restaurants please visit the Downcity website.
Wayland Square is located in the historic East Side of Providence. Bordered by Gano St, Pitman St, Butler Ave, and Angell St, Wayland Square provides many great dining and shopping opportunities.  Books on the Square is an independent bookstore with over 20,000 books in stock. There is a wide array of women's clothing stores including Clad-in, F. Bianco, J McLaughlin, Dixon & McAllister, and Mrs. Robinson Fine Lingerie. Head on over to the Providence Running Company for some new footwear. Your four-legged friends would love a new toy or accessory from Plaid & Stripe, a pet shop, and grooming salon. Need a cup of coffee or hot cocoa to keep your warm, then check out Teas and Javas and L'Artisan Cafe & Bakery. If you are looking for a great place to have lunch or dinner after shopping there are many places to choose from including The Salted Slate, Haruki East, McBride's Pub, Red Stripe, Wayland Square Diner, Lim's and Minerva's Pizza House. For more information and details on events please visit the Wayland Square Facebook page.
Fox Point is located east of downtown Providence and is bordered by the Providence and Seekonk Rivers. Here you will find many popular shops and restaurants located on Wickenden and adjacent streets. Three of Providence's antique shops reside here, Benefit Street Antiques, Nostalgia Antiques, and Red Bridge Antiques. Nava offers unique clothing, gifts, and home decor.  Head on over to Gallery Belleau for one-of-a-kind handmade glass ornaments and other decor. Stop in at the Coffee Exchange for some freshly roasted coffee, the locals love it here. You must stop in at Providence's first gourmet donut shop, PVDonuts. They have a broad selection of donuts from old fashioned to brioche. There are many fabulous choices for lunch and dinner here on Wickenden as well including The Duck and Bunny, and  Fellini Pizzeria. For a full list of shops and restaurants that Wickenden Street has to offer, please visit the Wickenden Area Merchants Association website.
These are just 3 of our top picks for local shopping here in Providence. It is a wonderful time of year to make a trip to Providence. Our bed and breakfast is open year round. Come feel at home with us and stay toasty by the fireplace! Book online today or contact us for further information.