Providence in the fall is very enjoyable.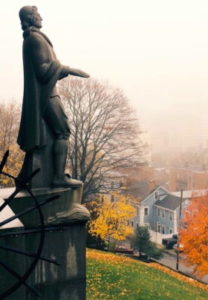 The leaves are changing beautiful colors and the temperature is just right. It's the perfect time to enjoy the outdoors. Our inn is located within walking distance to many nearby attractions. Here is a look at some special events that are coming up in the next few months here in Providence.
RI Seafood Festival – Taking place September 9-10, 2017, the seventh annual Rhode Island Seafood Festival is a scrumptious event held at India Point Park. All food and drink options are provided by local Ocean State producers. They also feature live music and different activities for the entire family. Visit their website for details and ticket info.
WaterFire – Taking place September 23, 30, 2017, and November 4, 2017, WaterFire is a spectacular one-of-a-kind work of art. There are over eighty bonfires lit along Providence's three rivers downtown. These next three fires are locally sponsored: University of Rhode Island, Gloria Gemma Breast Cancer Research, and Salute to Veterans. This event is always free. Please visit their website for more details.
Doors Open Rhode Island – Taking place September 23, 2017, Doors Open Rhode Island gives everyone the opportunity to go behind the scenes into many places not open to the public. Many of these include "historic homes, theaters, sacred spaces, secret vaults, studios and more, for free". For event times and participating locations please visit their website.
Jack-O-Lantern Spectacular – This creative work of pumpkin art is back October 5 through November 5, 2017.  The Jack-O-Lantern Spectacular features more than 5000 creatively carved pumpkins. This annual hit is open rain or shine. For ticket information and hours, please visit the link above.
October "History Crawl" Walking Tour – Taking place October 10, 2017, the October "History Crawl" Walking Tour is presented by the Rhode Island Historical Society. "This new tour will look at the intersection of downtown Providence's vibrant restaurant scene and the city's engaging history of preservation. The tour meets at New Harvest Coffee & Spirits located in the Providence Arcade. For tickets and details please click the link above.
Rhode Island Comic Con – Returning to Providence November 10-12, 2017, the Rhode Island Comic Con is the largest pop culture vent in New England. The Rhode Island Convention Center has been holding this event for the past six years. Some headliners for the RI Comic Con 2017 include Val Kilmer, John Cusack, Gene Simmons, Jason Isaacs, Dave Bautista, Jon Bernthal, Carl Weathers, Freddie Prince Jr., Robert Englund, "Weird Al" Yankovic, Beverly D'Angelo, and many more.  Guests include cast members from Stranger Things, The Walking Dead, Revenge of the Nerds, Power Rangers, Star Trek, The Goonies, Supernatural, and many more! For even times and ticket info, please visit their website.
If you are looking to enjoy local restaurants during your stay, consider booking our Taste of Providence Package, which includes 3 local restaurant gift certificates. We also offer a Romantic Getaway Package too! You can book your favorite room and these packages directly on our website or give us a call with any questions you may have.