Print This Recipe
This is one of the easiest scone recipes we have ever made here at the inn!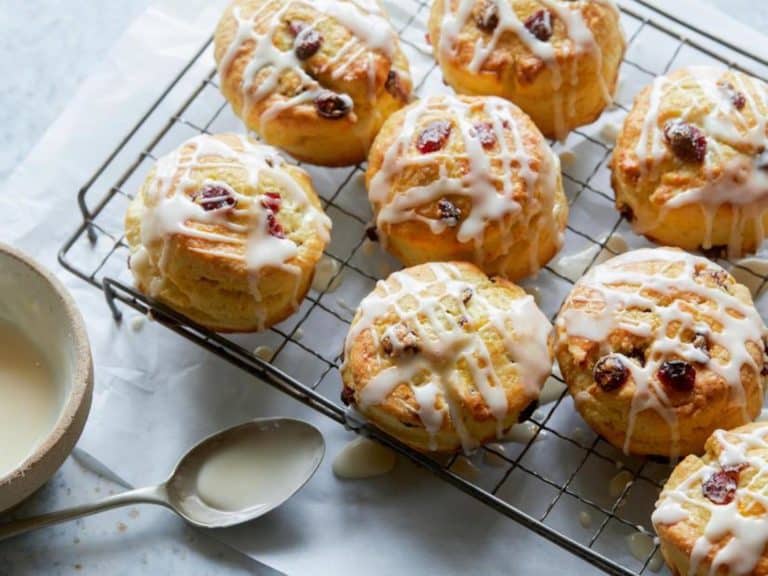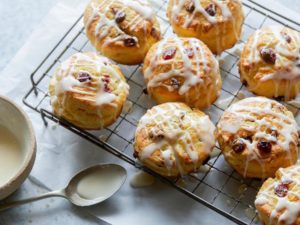 Prep Time: 15 Minutes
Cook Time: 20 Minutes
Total Time: 35 Minutes
Servings: Makes about 12 scones
Ingredients:
4 cups plus 1/4 cup all-purpose flour
1/4 cup sugar
2 tablespoons baking powder
2 teaspoons kosher salt
2 teaspoons grated orange zest (2 oranges)
3 sticks of cold unsalted butter, diced
4 extra large eggs, lightly beaten
1 cup (1/2 pint) cold heavy cream
1 cup dried cranberries
1/2 cup plus 2 tablespoons confectioners' sugar
4 teaspoons freshly squeezed orange juice
Instructions:
Line a sheet pan with parchment paper. Preheat the oven to 400 degrees.

In the bowl of an electric mixer fitted with the paddle attachment, mix 4 cups of flour, 1/4 cup granulated sugar, the baking powder, salt, and orange zest. Add the cold butter to the flour mixture and mix at the lowest speed until the butter is the size of peas.

Combine the eggs and heavy cream in a separate bowl. Then with the mixer on low speed, slowly add it to the flour and butter mixture. Mix until just blended. The dough will look lumpy! Combined the dried cranberries and 1/4 cup of flour, add to the dough and mix on low speed until blended.

Using a large ice cream/ cookie scoop, scoop the scones out onto the prepared baking sheet. Bake for 20 to 25 minutes, until the tops are browned and the insides are fully baked. The scones will be firm to the touch. Allow the scones to cool for 15 minutes. Then whisk together the confectioners' sugar and orange juice and drizzle over the scones.
Recipe By: Ina Garten - June 24, 2019